Help Foodbank feed the needy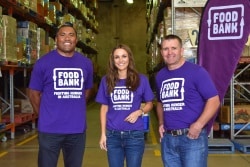 For the eleventh year running, Retail First Shopping Centres (including Capalaba Park) has teamed up with All Purpose Transport to raise 40 tonnes of food donations, and to assist with Foodbank's increased demand for food assistance over the Christmas season.
CAMPAIGN RUNS FROM 1 OCTOBER TO 31 DECEMBER, 2019.
Every week in Queensland 100,000 people rely on food relief from Foodbank QLD, half of those being children. It is not only the homeless or jobless who rely on this assistance – it is the working poor asking for help to feed their families that is on the rise.
This year the campaign will again feature three well known Queensland Ambassadors, Petero Civonoceva, Natalie Gruzlewski and Shane Webcke (right), who have assisted in spreading the word to encourage Queenslanders to donate when doing their grocery shopping.
HOW CAN YOU HELP

Simply purchasing an extra tin of baked beans or a bag of pasta and dropping it into the donation cage located outside Coles or Woolworths goes a long way to making a difference!
That extra item of food goes a long way for many, and we know that the generosity of the community is a key ingredient in helping feed families this Christmas.
Each week, donations are collected by our campaign partner – All Purpose Transport – who take them to the Foodbank warehouse at Colmslie for distribution to Charity groups. Note: items donated will be distributed to farming families in need as well as local charities and food programs.
Every little bit helps.
2019 GOAL: 40 tonne

Current tally (as at 1/10/19): 0 tonne. 
For more information on Foodbank visit www.foodbankqld.org.au/