Share the Dignity
This August, Capalaba Park and Retail First Shopping Centres are again partnering with Share the Dignity to run a donation drive for the collection of tampons, pads and personal hygiene products.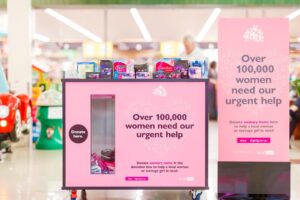 DID YOU KNOW:
There are over 100,000 Australian women and teenage girls who every month go without female sanitary products because they cannot afford them, due to homelessness, poverty and domestic violence.
This initiative aims to provide the basic essentials for women and girls in crisis, and alleviate the undignified situations that thousands experience across the country.
HOW CAN I HELP?
From Monday 1 to Wednesday 31 August, pick up an extra sanitary item or two when shopping at Capalaba Park and place it in the pink donation boxes located outside Coles and Woolworths.
Follow us on Facebook or Instagram to follow the collection drive news.
Visit www.sharethedignity.com.au for more details on Share the Dignity.