Stories of survival and hope
'Where the heart is…' is on display now at Capalaba Park!
In 'Where the heart is…' eight people from refugee backgrounds share their stories of survival and their different responses to a new culture and country with its particular challenges and opportunities.
'Where the heart is…' forms part of Adderton Everywhere, a continuation of Adderton's activation of community exploration and engagement in contemporary social justice and mercy through art and ideas.
For more information on 'Where the heart is…' and Adderton Everywhere' go to https://adderton.org.au/
Be inspired by 'Where the heart is…' at Capalaba Park until Monday 26 October, located outside Target. We'd love to hear your thoughts and reflections on the stories shared in the exhibition by posting a comment on our Facebook or Instagram pages.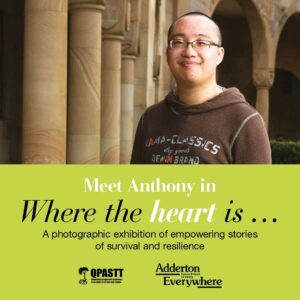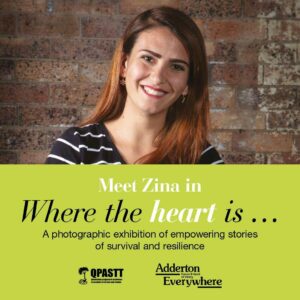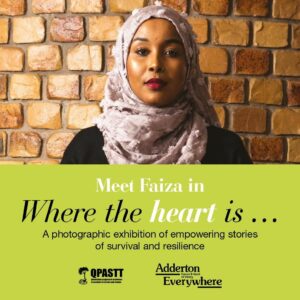 📷 'Sanyu' supplied as part of #QPASTT 'Where the heart is' project. Photography:  Mark Crocker @mark.crocker.10 with Meron
📷 'Anthony' supplied as part of #QPASTT 'Where the heart is' project. Photography: Mark Crocker with Maelee
📷 'Zina' supplied as part of QPASTT's 'Where the heart is…' project. Photographed by Saya with Mark Crocker
📷 'Faiza' supplied as part of QPASTT's 'Where the heart is…' project. Photographed by Saya with Mark Crocker