The Green Double Decker named Retailer of the Year
'The Green Double Decker' has been named Capalaba Park's best retailer for 2018.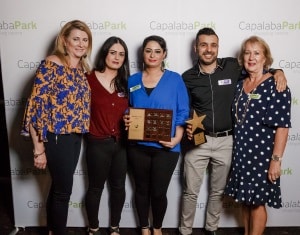 Announced at the annual Capalaba Park Retailer of the Year Awards, The Green Double Decker won the Award for the first time and were recognized for their high-quality product, excellent customer experience and overall positive attitude.
Centre Manager Leisa Liggett said that The Green Double Decker is an integral part of the Capalaba Park family and this award reflects the excellent job they have done in building a strong and loyal customer base since the current owners took over the business in 2009.
"Every morning, visitors to the Centre are greeted with great big smiles from all their staff and we know that people travel far and wide to grab a Green Double Decker sandwich. The feedback we receive from customers is always positive and we are so proud to have them in the Centre" Liggett commented.
The Centre's annual Retailer Awards are held each February and recognise those retailers who contribute to the overall success of Capalaba Park via high levels customer service, visual merchandising and providing customers with a valuable point of difference.
Full list of Award winners for 2018
RETAILER OF THE YEAR – GREEN DOUBLE DECKER
Major of the Year – Coles
Food Retailer of the Year – Green Double Decker
Fashion Retailer of the Year – Connor
General Retailer of the Year – Flight Centre Cruise
Services Retailer of the Year – Heel & Sole Man
Centre Management Office (CMO) Award – Sizzling Wok
Customer Choice Award – Chempro Chemist